Located just steps from Union Square, the historic King George Hotel offers a British-inspired ambiance and exceptional service. Our charming boutique hotel, built in time for the Panama-Pacific International Exposition of 1915, features all of the modern travel amenities* like free Wi-Fi, business and concierge services, INTELITY in-room service tablet, valet parking and Relax in beautifully renovated rooms* with a blend of contemporary décor and vintage accents.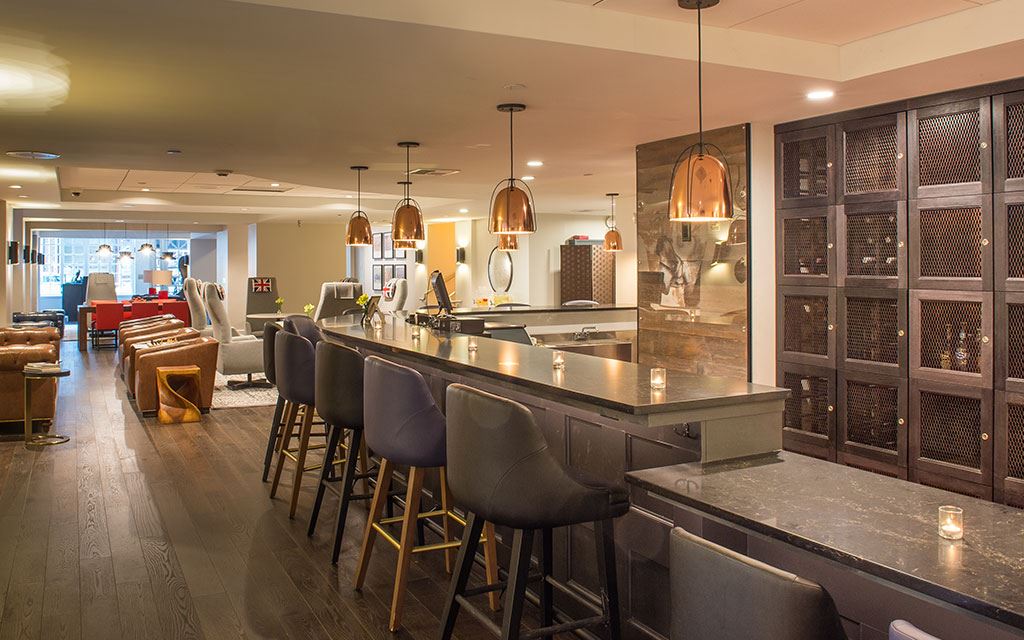 Key features:
Mason Social Club in the lobby
153 boutique-style rooms
Pet friendly
King George Hotel
334 Mason Street
San Francisco, California 94102
More About King George Hotel
Meet for cocktails in our lobby at Mason Social Club and enjoy beer, wine, darts, pool, shuffleboard and conversation with fellow travelers, or be productive in our versatile meeting space. From our central location, walk to Union Square shops, restaurants and theaters, or ride the cable cars to Chinatown or Fisherman's Wharf. Book one of our unique hotel experience packages and enjoy an inviting urban retreat immersed in the culture and history of San Francisco. The King George Hotel is recognized as both GayTravel.com and TAG-approved LGBTQI-friendly hotel.
Services & Amenities
Concierge Services
Complimentary Wi-Fi
Business Center With Desk, Computer And Printer
Dry Cleaning Service
Meeting And Event Space
Mason Social Club
Happy Hours: 4 PM – 6 PM
Use Of Nearby Fitness Center
(At A Nominal Fee)
Valet Parking
Green Programs
Boutique Lodging in Union Square
Located just one block from the King George Hotel, Union Square is San Francisco's most exciting shopping, dining and entertainment district with the largest collection of retail shops and boutiques in the country. From art galleries to department stores to designer boutiques, Union Square is a shopper's paradise.
Indulge in Fine Cuisine
Experience the incredible San Francisco dining scene at the King George Hotel. Start at Winston's Lounge with fine wines and imported or domestic beers. Our hotel is steps from Union Square and many San Francisco restaurants, cafés and bars. Indulge in mouthwatering seafood at Fisherman's Wharf, enjoy authentic Italian cuisine in North Beach, and sample the cuisine of San Francisco Chinatown, all minutes away.
The Place for Meetings and Events in San Francisco
Our Union Square hotel is the perfect setting your next business meetings or social events in San Francisco with 1,1050 square feet of space for small gatherings. Our two meeting room feature audiovisual equipment, free Wi-Fi and everything you need to ensure a smooth presentation in a comfortable environment.
Relax and unwind with a variety of room types, including our newly-renovated hotel rooms in the heart of San Francisco Surrounded by the liveliness of Union Square, our 153 boutique-style rooms feature charming European inspired décor, modern amenities and curated wall art to make you feel at home while in the heart of the city. Our pet-friendly hotel can accommodate up to one dog (per room), maximum up to 40 lbs, and a one-time fee of $50 per stay.
Whether visiting for business or vacation, our history San Francisco hotel offers everything you need to be comfortable – from complimentary Wi-Fi and Intelity systems to cable TV and eco-friendly bath products!
The King George Hotel goal is to ensure that individuals with disabilities can make reservations for accessible guest rooms, including reservations made by telephone, in-person or by using the Book Now feature on this web site, during the same hours and in a substantially similar manner as individuals who do not need accessible rooms. The King George Hotel has taken steps to ensure that our web site, including our web site's reservations mechanism, is accessible to individuals with disabilities.
For Press/Media inquiries, please contact KingGoergeInfo@Ohrllc.com
For Sales Inquiries for rooms or meeting space, please contact: KingGoergeSales@Ohrllc.com