Hotel Griffon invites you to experience what was voted "Best Boutique Hotel" and "Best 24-Hour Getaway" by San Francisco Magazine. Situated along San Francisco's stylish Embarcadero waterfront, our certified green hotel is the perfect choice for business and leisure travelers who seek a pleasant and charming alternative to a chain hotel.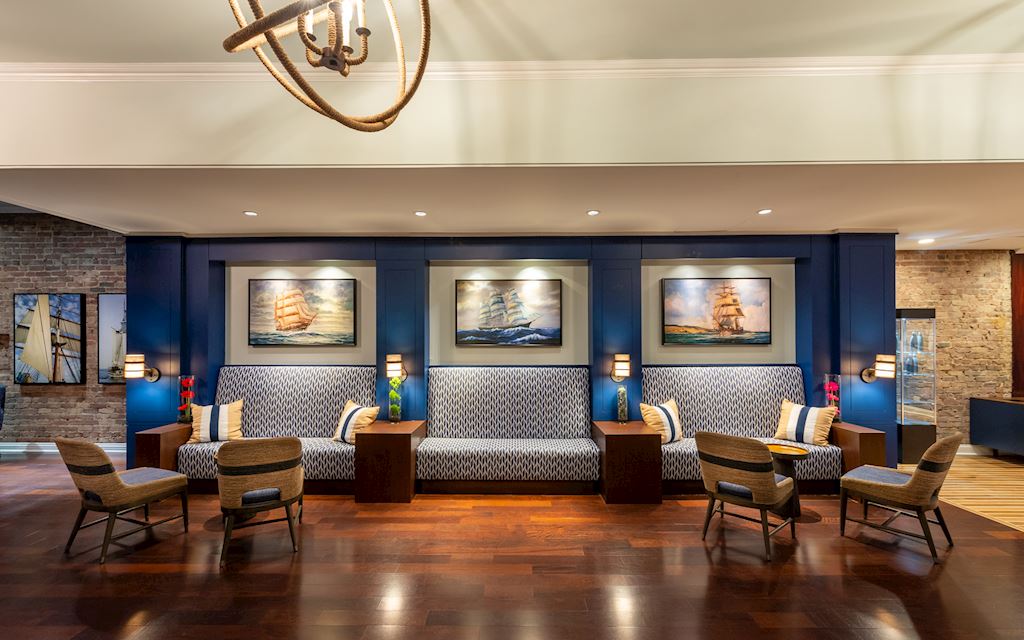 Key features:
Spectacular views of the San Francisco Bay and Bay Bridge
Located in the heart of downtown along the Embarcadero waterfront
Proud member of the California Green Hotels Association, certified by Green Seal Inc. at the Silver Level.
Hotel Griffon
155 Steuart St
San Francisco, California 94105
More About Hotel Griffon
Indulge in an appealing, historic San Francisco boutique hotel (originally built in 1901) inspired by European flair and enjoy exceptional amenities that include well-appointed guestrooms and luxury suites, onsite dining at Perry's on the Embarcadero – a San Francisco institution serving classic American food – and a distinguished meeting space for business while you travel. Additionally The Hotel Griffon is recognized by GayTravel.com and is TAG-approved as an LGBTQ friendly hotel.
Attractions
Our San Francisco waterfront hotel offers easy access to the Financial District, Moscone Convention Center, AT&T Park, San Francisco Museum of Modern Art and Fisherman's Wharf. Catch a ferry to Sausalito or walk across the Golden Gate Bridge, spend the day shopping at Union Square, sample the local cuisine, or simply sit back and enjoy your beautiful Bay Area surroundings.
There are few hotels in San Francisco that capture class and charm better than Hotel Griffon. With spectacular views of the San Francisco Bay and Bay Bridge, we invite new and returning guests to experience the city in comfort and style.
A San Francisco Green Hotel
Hotel Griffon engages in the best practices for energy efficiency and environmental sustainability. From environmentally safe bath products, to pens and stationery made from recycled materials, Hotel Griffon Hotel strives to provide an eco-friendly hotel experience. Hotel Griffon Hotel is a proud member of the California Green Hotels Association and has been certified by Green Seal Inc. at the Silver Level.
Hotel Griffon is a sophisticated San Francisco hotel on the Embarcadero waterfront, ideal for both leisure and business travelers. In addition, our boutique hotel offers charming rooms and suites, with exceptional on-site dining and convenient meeting space. Our boutique hotel services set the stage for relaxation and rejuvenation along the beautiful Embarcadero waterfront. Experience outstanding hospitality during your San Francisco stay at Hotel Griffon.
Hotel Amenities & Features
Central Location To Nearby Businesses
Personalized Voicemail
Earn Points Toward Free Stays With Stash Hotel Rewards
Family Friendly
Complimentary Internet Access Throughout The Hotel
100% Smoke Free Hotel
Air Conditioning
Independent Boutique Lodging Along the Embarcadero in Downtown San Francisco
Located in the heart of downtown San Francisco along the Embarcadero waterfront, Hotel Griffon is surrounded by some of San Francisco's top restaurants, sites and attractions, and is easily accessible via BART from SFO or OAK airports.
Classic San Francisco Fare Delivered to Your Room, or Enjoyed Here at Perry's
A San Francisco institution offering classic American fare, wine, beer and cocktails 7 days a week. Guests can enjoy room service directly from Perry's! The hotel is surrounded by some of the best restaurants the city of San Francisco has to offer.
Perfect for Business Travel and Hosting Your Next Big Meeting
Host your next presentation or business meeting in our 5th floor conference room featuring an open-air patio, or simply enjoy our business and leisure amenities while you stay with us on your next business trip here in the Bay Area.