Experience a charming boutique hotel in beautiful Palo Alto, California. Nestled along Matadero Creek and a lush landscape of gardens and oak trees, the Creekside Inn is a peaceful escape for vacation, business travelers and special events. A short jaunt from Downtown Palo Alto, our eco-friendly hotel is more than a place to rest your head; it's a retreat from the hustle and bustle of Silicon Valley.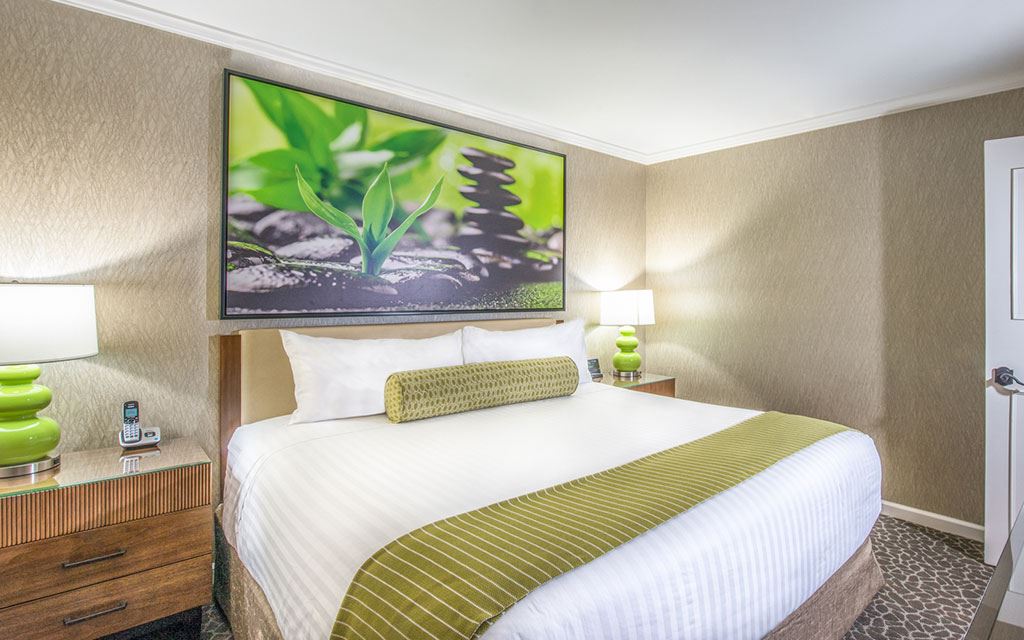 Key features:
A creek side location & rooftop patio perfect for weddings & social events
Outdoor heated pool
Charming eco-friendly hotel
Creekside Inn
3400 El Camino Real
Palo Alto, California 94306
More About Creekside Inn
There are a lot of choices of places to eat and explore in Downtown Palo Alto. Stroll down University Avenue and Palo Alto's tree-lined streets to great shops, restaurants, cafés, art galleries and historic buildings that reflect California's heritage. Our Peninsula location provides easy access to San Francisco to the north and San Jose to the south.
Palo Alto Hotel Getaway
Our charming Palo Alto hotel is surrounded by exciting Silicon Valley attractions, museums, parks, hiking and biking trails, golf courses and concert venues, like Stanford University, Shoreline Amphitheater, and Elizabeth F. Gamble Garden Center. Visitors and locals alike enjoy walking the Stanford Dish, a sunny trail with breathtaking views of the valley. Enjoy Palo Alto's thriving nightlife scene and wonderful downtown shopping. It is all just minutes away from the Creekside Inn.
Hotel Near Stanford University & Stanford Hospital
Our relaxing Palo Alto hotel is 2 miles from Stanford University, Stanford Medical Center, Stanford Hospital and Clinics, Stanford Stadium, Stanford Shopping Center, Stanford Theater, SLAC, Cantor Arts Center, Lucile Packard Children's Hospital, and the Rodin Sculpture Garden. The Creekside Inn offers business travelers a convenient location near major Silicon Valley corporations, including Google, Hewlett Packard and NASA AMES. Take advantage of our complimentary hybrid car service to Stanford University and companies within a 5-mile radius of our hotel.
Our hotel is a restful oasis 2.5 miles from Stanford University, Stanford Shopping Center and Downtown Palo Alto, abundant shops, restaurants and galleries. Enjoy hiking and biking trails, wine tours, golf courses, concert venues, and Bay Area attractions, including Shoreline Amphitheater and Levi's Stadium.. Our location offers easy access to Silicon Valley, San Francisco and San Jose.
Spacious suites, helpful staff, outdoor heated pool, and complimentary morning beverage and pastry service await you at our boutique hotel.
Hotel Getaway
Whether you are traveling for business or vacation, our Palo Alto hotel offers a refreshing mix of tranquility and high-speed hospitality. Discover an oasis of gardens and oak trees along Matadero Creek. Relax in our heated outdoor pool, recharge in the 24-hour fitness center, or stay connected in our business center. You can also take advantage of our complimentary hybrid car service to Stanford University and other Palo Alto destinations. 
Meeting Place – Meetings & Weddings
Equipped meeting rooms and intimate banquet rooms, our magnificent creekside gardens and rooftop patio are skylit spaces for weddings, social events, cocktail parties and business breakouts. Audio/visual support and creative catering make your events unforgettable.
Bay Area Business Meetings and Conferences
Located just 2 miles from Downtown Palo Alto businesses and Stanford University, Creekside Inn is a beautiful Bay Area destination for corporate events, business meetings, conferences and training seminars. Our Palo Alto inn offers three indoor meeting rooms with up to 1,400 square feet of reception, banquet and boardroom space, complemented by an outdoor patio with pool views. Our landscaped gardens and relaxed rooftop patio are ideal for meeting breaks and networking events.
Host your business gatherings, sports clubs and corporate events at the Creekside Inn – from elegant receptions in the Stratton Room to fun-filled events by the pool. Get inspired at the Creekside Inn, featuring high-speed internet, a business workstation, free shuttle service, catering, and complimentary parking.
Complimentary Wi-Fi
320 sq. ft. boardroom with wet bar
(up to 25 attendees depending on set up)
Wall mounted white board
Leather chairs
52-inch LCD TV
HDMI/VGA/Apple cables provided
Natural light
Outdoor terrace
Private restroom
Bottled water provided
Located on the 5th floor
Bay Area Weddings and Celebrations
Host your Palo Alto weddings and special events in our intimate banquet spaces, stunning gardens and playful pool area. Set along Matadero Creek, lined with mature oaks, the Creekside Inn is a romantic and natural destination for your Bay Area wedding celebrations and festivities. A beautiful location, fresh delicious food and impeccable service create events in Palo Alto to be enjoyed and remembered with family and friends.
The Creekside Inn offers three stylish indoor venues for weddings, events, banquets and receptions in Palo Alto, from 8 to 80 people. From elegant evening banquets in the Stratton Room to a relaxed rooftop party, the Creekside Inn is an extraordinary place to create your moments. Our flexible event spaces offer wireless internet, audio/visual equipment and creative catering.